Title shamelessly stolen from a Matt Haig tweet, https://twitter.com/matthaig1/status/825863215003336704.
I will not hide the blatant fact that I have been experiencing something of a writer's block over the past couple of months. There is so much negativity in the world today – perhaps more than I had ever been conscious of at any point in my life – and I am suddenly beginning to realise that this negativity is reflecting on my creativity… or lack thereof. My mind perpetually keeps mulling over and over the problems caused by one man and his white army, recklessly drunk-driving the vehicle that is one of the most powerful countries of the world. And there is absolutely nothing we can do but protect ourselves and those most vulnerable from the gravity wave of evil propagating downstream from the Western epicentre, penetrating into the deep core of our humble Earth and destroying the hopes of SO. MANY. INNOCENT. PEOPLE. IN. THE. WORLD.
It would take a goldmine of imagination to explain why the majority of those recently appointed to the White House are climate change deniers, in a world where practically all scientific entities worldwide agree that rising global temperatures – a result of none other than a century of heightened anthropogenic CO2 emissions and global industrialisation – will cause unprecedented changes in how our climate behaves. Even North Korea has ratified the Paris climate agreement [1]. North Korea! Whilst the U.S plans on pulling out and undermining any international efforts hitherto accomplished [2]. Along these lines, and totally stripping NASA's Earth climate research in favour of space exploration, the Trump administration considers climate research as "politically correct". "Mr Trump's decisions will be based upon solid science, not politicized science." [3] – from a senior Trump campaign adviser, Bob Walker. So whilst my inner physicist is deeply excited about space exploration, this should never ever replace essential Earth observation and climate monitoring. The worldwide scientific community is visibly shaken. As is the world, and as am I.
"For too long, we've been held back by burdensome regulations on our energy industry. President Trump is committed to eliminating harmful and unnecessary policies such as the Climate Action Plan and the Waters of the U.S. rule."
The divergence of idiocy pouring out of some politicians' mouths defies any moral thinking, and I begin to question even my own beliefs. Perhaps I am blinded by the truth of scientific fact, consequently missing some major point about why exploiting Earth's resources is, in fact, absoluetly the right thing to do? Perhaps investing in renewable energy is just a waste of our time and money whilst we have lovely cheap, dirty coal to burn and the godsend of approved fracking in the UK? I can't see any climate change happening daily, surely this means it must be a conspiracy posed by the Chinese!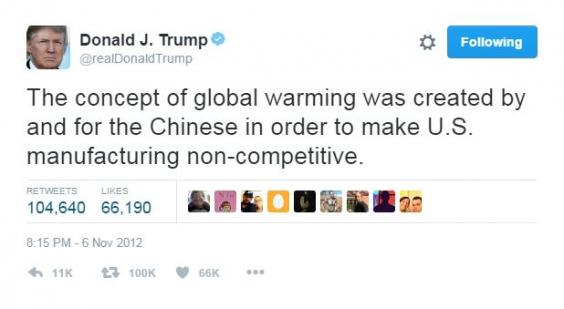 The only thing worse than a climate change denier in power of a major power country, is one with an army of climate change deniers backing him up. Thank you for reading. Stay strong. Perhaps consider having a look at the Call for an Academic Boycott of International Conferences held in the US
Links:
[1] http://inhabitat.com/paris-climate-deal-update-north-korea-ratification-pushes-ghg-ticker-over-1/
[2] http://www.independent.co.uk/news/world/americas/donald-trump-climate-change-denial-white-house-reince-priebus-steve-bannon-a7446236.html
[3] https://www.theguardian.com/environment/2016/nov/22/nasa-earth-donald-trump-eliminate-climate-change-research